Paris Coffee Shop at the corner of Magnolia Avenue and Hemphill Street has been the go-to place for locals and tourists for decades.
The diner closed last fall for a top to bottom renovation, a six-month redo that respects the past but pushes Paris into the present.
"You gotta come in with a respect for this legacy and what it carries and the history behind it. I felt like we did a good job in doing our homework and understanding the roots of what Paris Coffee shop was and we carry that into this revamp," said new owner, operator Chris Reale.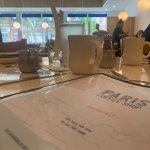 Industry veteran Reale, chef-restaurateur Lou Lambert chef and developer Mark Harris bought the diner last year from longtime owner Mike Smith. Smith took the place over from his dad who bought it in 1926 from a guy named Vic Paris.
Between father and son,…